Dictation and EMR's: A Winning Combination
Congressional Budget Office forecasts predict that approximately 90 percent of physicians will be using health IT, which includes EMR's, by 2019 as a result of the American Recovery and Reinvestment Act.

But according to a recently published white paper from the AC Group, a healthcare technology consultancy in Montgomery, Texas, it can take a physician an average of 140 minutes per day to fill EMR's using standard data entry. That adds up to hundreds of hours per year of additional tedium for the physician, whose time is clearly better spent seeing patients.

Click here for the full article.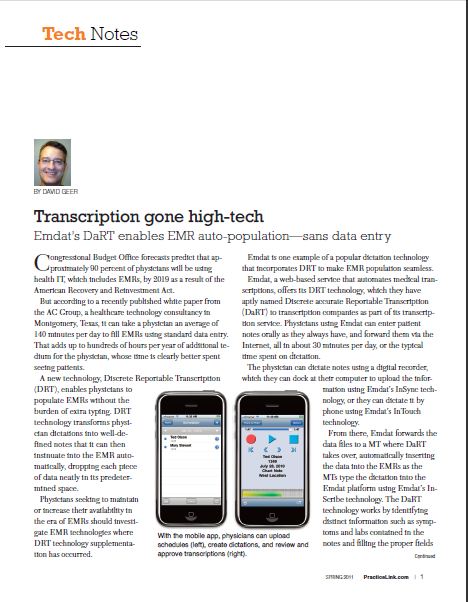 Transcription Gone High-Tech
Beware the Chair
Sadly, I recently discovered my chair is my enemy. And this revelation is after we've spent so much quality time together. I feel betrayed. Check out this infographic from the medical billing and coder's web site:


http://www.medicalbillingandcoding.org/sitting-kills/
-- scary stuff. We transcriptionists are in the very same "sit-uation."

Though no one is suggesting that we should stop exercising, ongoing research is showing it doesn't truly matter if a person runs every morning and is a regular at the gym if the rest of the day is spent sitting. With prolonged sitting - in the car, the office chair, on the sofa at home - there is an increased risk of obesity, diabetes, other noxious ailments and even an early death. It appears that in spite of whether we exercise vigorously, sitting for long periods will overrule that virtue and get us in the end. And the belly.

Click Here for the Full Article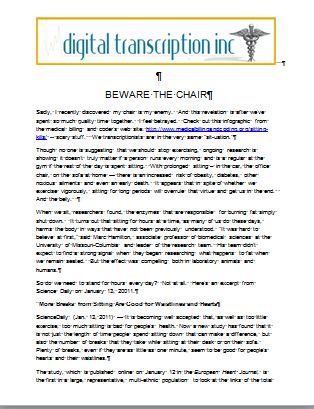 A Physician-Friendly Approach to EMR's
Northwestern Medical Faculty Foundation and Loyola University Health System, both based in Chicago, represent two of the largest and most prestigious medical groups in the Midwest. Together, the organizations employ more than 2,300 physicians and residents who bring the cutting-edge research of a leading academic institution to the care they provide.

Like many healthcare organizations in recent years, Northwestern and Loyola have adopted electronic medical records (EMRs) as a way to streamline their documentation process. However, converting to EMRs without disrupting physician workflow presented a unique challenge, given that many doctors prefer dictating patient notes orally as opposed to entering information manually into a computer. For both health systems, the solution came in the form of EMR integration from Emdat Inc., a provider of web-based transcription management software.

Click Here for the Full Article